Meeting ID: 623 365 357
Assignment 10.0
Design a flower vase
Create 3D printed model.
Model scale to be within 2x2x5″
Keep the model under $20.
Bring the model to next class.
Take 2+ photos of the model and upload images to your page.
Show your model using zoom on the phone, if you don't. have the model yet, show your rhino screen for the design.
Twinmotion
Twinmotion direct Link for Rhino on Mac and PC.  Rhino version 5 and up.
Quit all other programs other than Rhino and Twinmotion.  Twinmotion is Memory intensive software.  You need to clear the memory to run the program.  Closing all programs, restart your computer, and open Rhino and Twinmotion
https://youtu.be/cSLsiVKrfjQ
Rhino File Preparation
"SelCrv" to select all existing curves and "Hide", also hide dimension "Seldim" and points "SelPt".
Sort Objects in layers by material name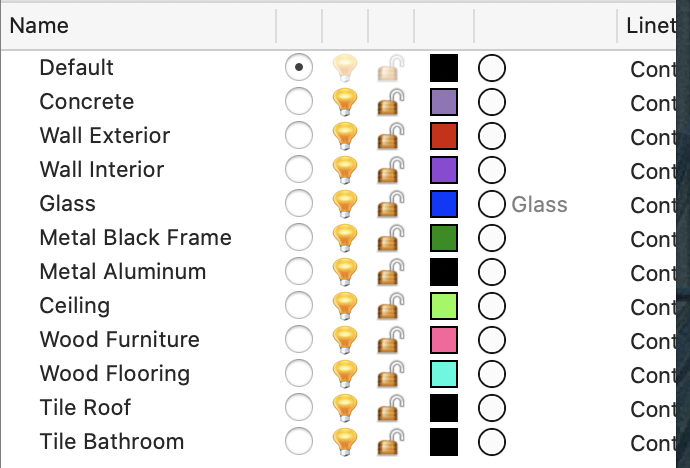 Twinmotion Options
Merge by material (best performances)
Synchronize
Twinmotion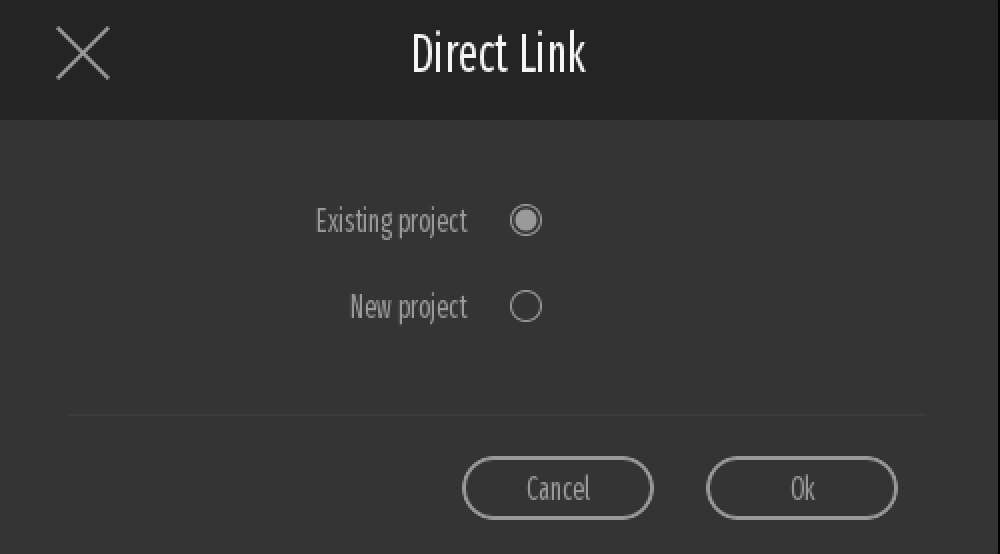 If it's a new project select "New Project"
If it is a working file, select "Existing project".  Always file Rhino and Twinmotion file in the same location to secure material and model loss.  Load your working Twinmotion file.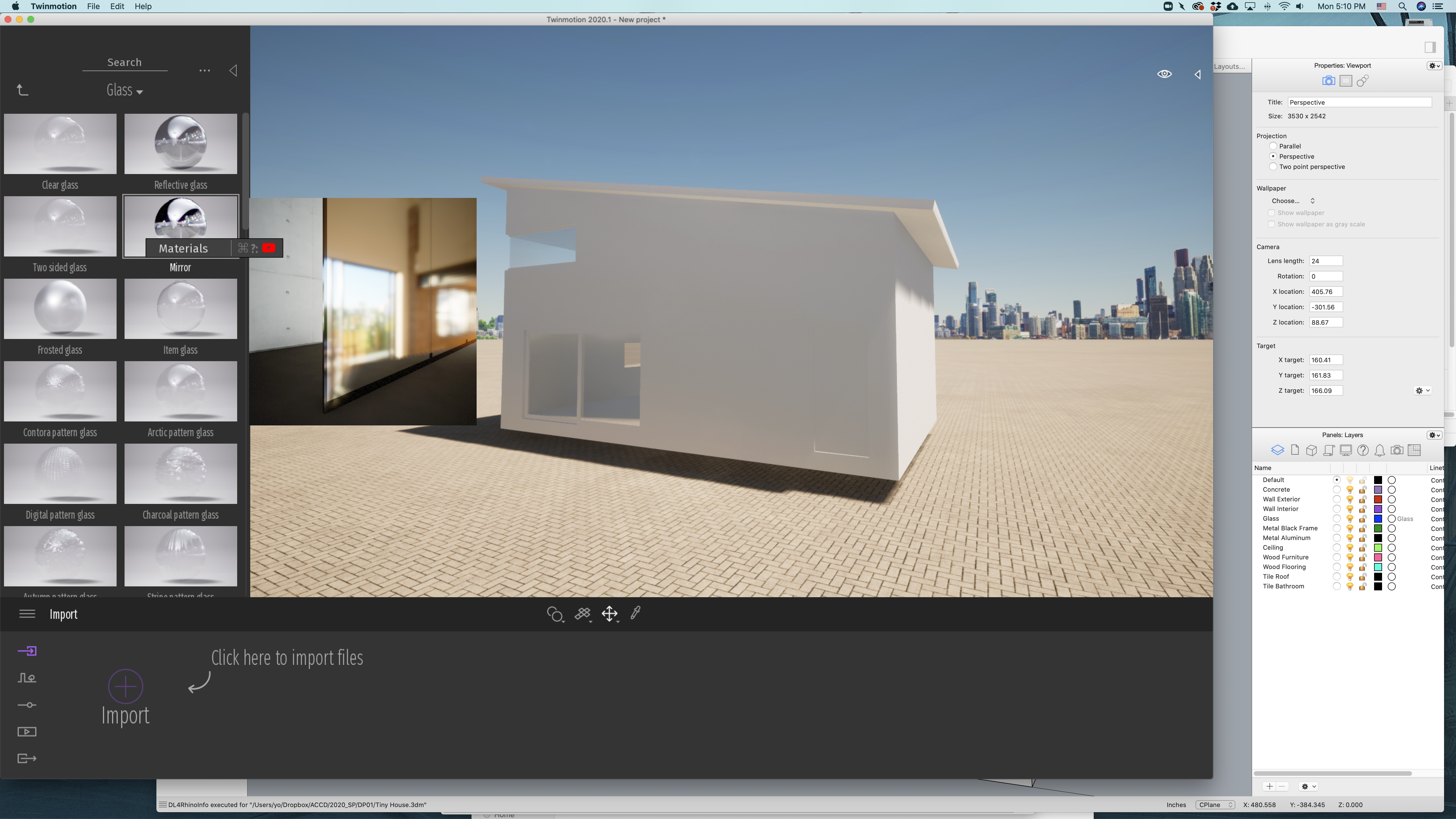 Materials
Materials by layers vs Merge by Materials
Assigning materials
Scaling and rotating
Sampling materials
Furniture and Objects
Placing and moving Furniture and objects
Save Your File (Mine crashed right here)
Characters
Placing Humans
Don't render humans closeup
Tree and Landscape
Settings > Localization > Background > Picture > Countryside
Material > Ground Cover> Grass
Context > Vegetation Paint > Paint Trees
Rendering Still Image
Media > Image > Create Image > More > Camera Setting
Parallelism On
Export > Image
Frozen Moments Discussion
Final Project: Frozen Moment Lamp
Based on your analysis of the frozen moment
Build a story around the moment
Translate both form and story into the design
On an LED Puck, build a 3D printed lamp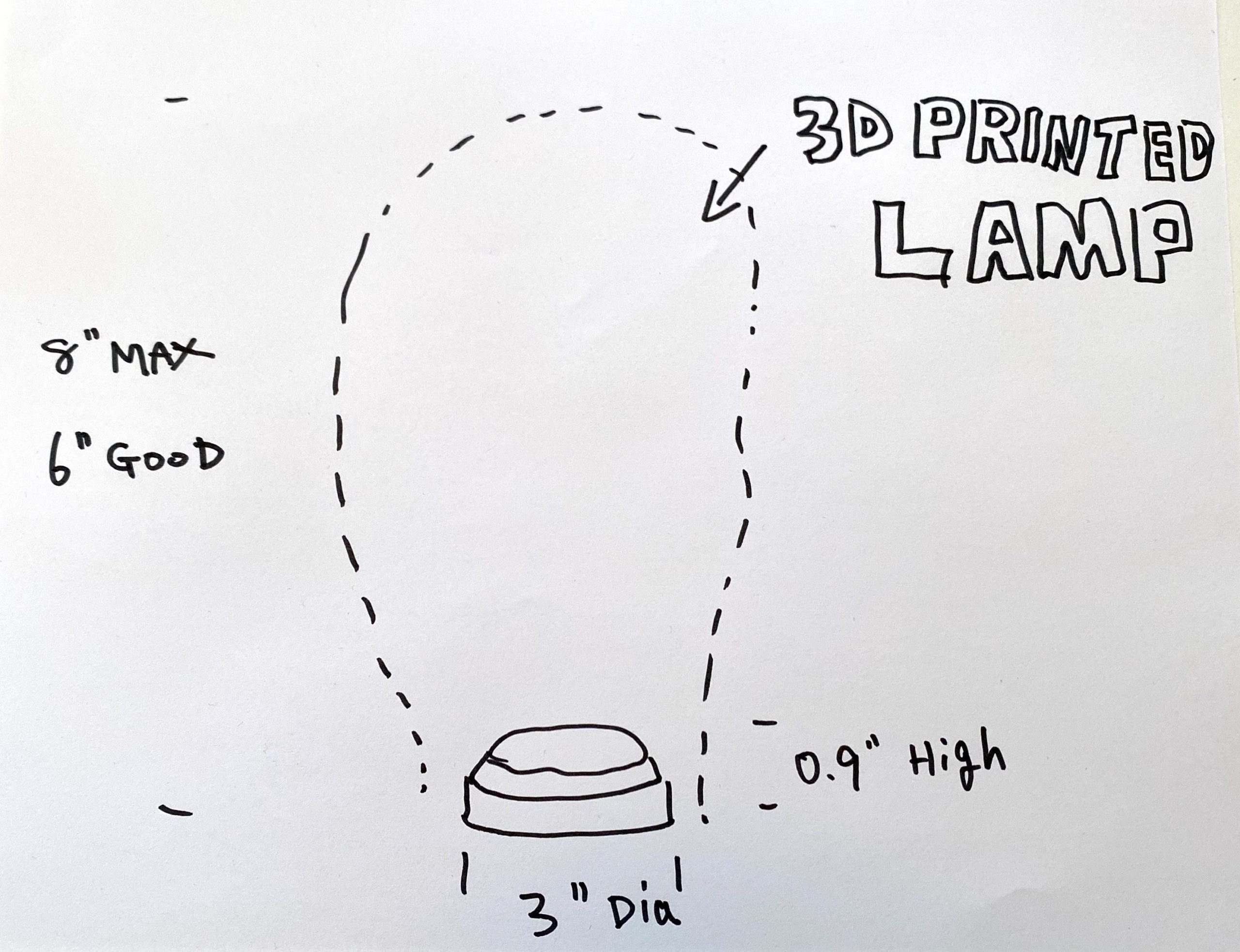 Don't buy this if you have something you can use.
Size: approximately 4x4x6″
Assignment 11.0
Your Project on Twinmotion
Show a state of your project on Twinmotion next week on Zoom
Assignment 11.1
Pick your own frozen moment and clip the video
Write 3 beautiful things about the particular moment
Frozen Moment Lamp Sketches
Frozen Moment Digital Sketch Models