Assignment 3.0
Model a 10×10″ grid honeycomb form.
Render 2+views and upload images to your page.
Assignment 3.1
Create museum board folding model
Bring the model to next class.
Take 2+ photos of the model and upload images to your page.
Half-Tone
http://valogianni.blogspot.com/2010/02/hitoshi-abe-aoba-tei-restaurant-2004-05.html
Halftone filter
Open one of your field image files in Photoshop
Image – Image Size – Change Resolution to 300 / Change Width to 1200
Image – Mode – Grayscale
Image – Level – Change your image until darkest area is about 50% gray
Image – Brightness and Contrast – Brighten image
Filter – Blur – Gaussian Blur – 3pt
Filter – Pixelate – Color Halftone – Max Radius 25 – Everything else 0
If the circles are overlapping, go back to step 4 and 5, and make the image lighter
Draw Path
Select – Color Range – Click on Black area – Ok
Window – Path – Path Option – Make work path – Tolerance 2.0
File – Export – Paths to Illustrator
Halftone in Practice Rhino
Import the illustrator file
Rebuild – 4 segments – 3 degree curve
Scale to fit in 10×10″ bounding box
Laser cut or score
Faceted Architecture
http://archdezart.com/2012/01/18/nestle-chocolate-museum-mexico-rojkind-arquitectos/
http://www.pleatfarm.com/2009/11/11/office-da-helios-house/
http://places.designobserver.com/feature/between-mission-statement-and-parametric-model/10757/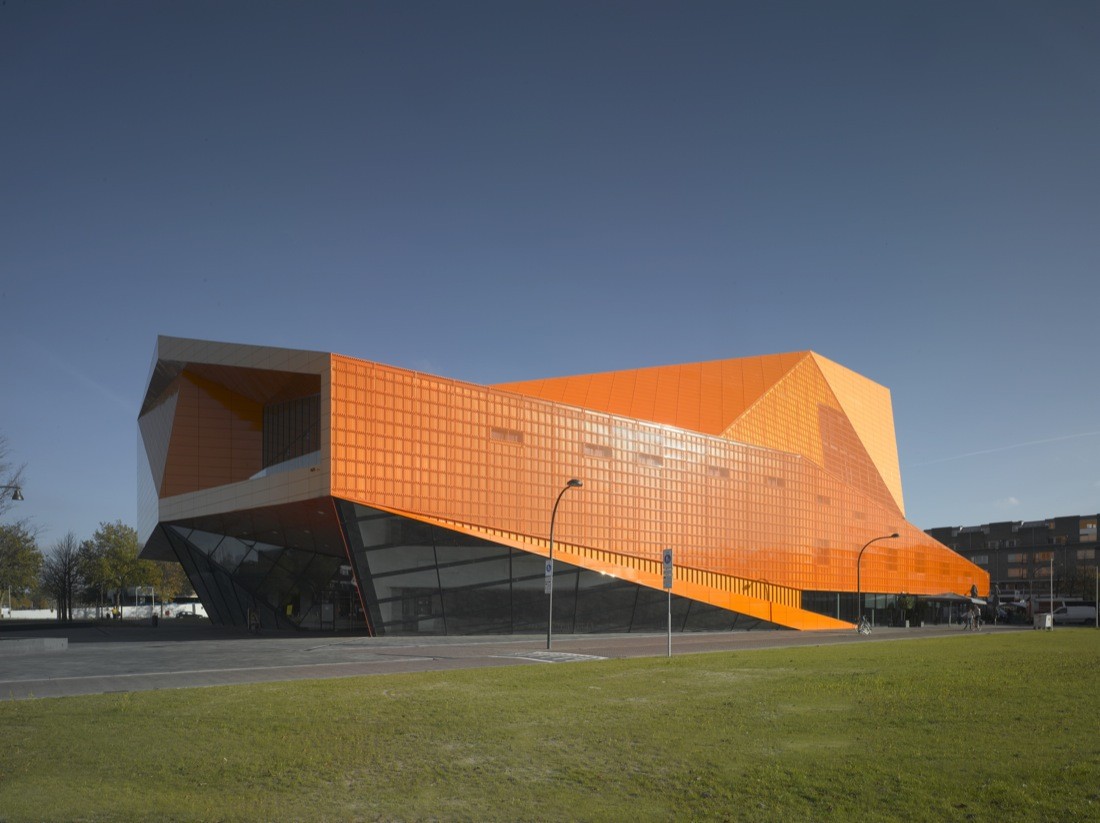 http://www.archdaily.com/100224/theatre-agora-unstudio/5006e69c28ba0d414800032b-theatre-agora-unstudio-photo
Facet Tile Making
Create 10x4x10 bounding box
Create 2d square and explode
"EdgeSrf" to create 2 triangles
Copy the triangles 10 times in X and Y direction
Turn on Control points to make depth to the facets (Facets cannot be flat)
Create seating and shelving conditions
Join all faces and export as .obj
Pepakura Designer
Assignment 4.0 Halftone Plate
Using Lasercutter, create 10×10″ panel using plexiglass.  The pattern should be based on your filed condition
Assignment 4.1 Facet Panel
Using Canford Paper, create 10x10x2″ facet tile using Pepakura Designer.  Find a relationship between Halftone Plate and Facet Panel .  Use Scale figure.