Assignment 3.0
Visit Walt Disney Concert Hall in Downtown LA
http://www.musiccenter.org/visit/Exploring-the-Center/Tours/
Try
Take Photos and upload to the site
Assignment 3.1
Create 5 volumes using 3D box tool.
Arrange them in a dynamic way.
Use Boolean command to create interior space
Wrap the blocks with at least 20 Gehry style skin.
Assignment 3.2
Based on in class exercise, create your own 3D tile.  Upload JPG images on the website.
Yo is Traveling this week
Zaha Hadid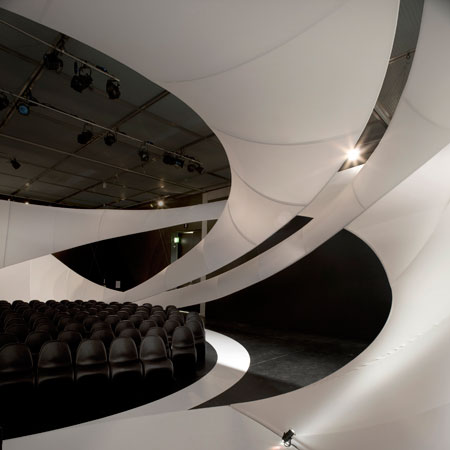 Loft Exercise
Assignment 4.1 Five Biomorphic Tents
Using the technique of Zaha Hadid you have learned in the class, design a tent.  The design of the tent should reflect the organic and biomorphic aspect of Zaha's design.
Here are several notions to consider:
Structure vs surface – integrated or separated
Overall smoothness and flow
Materiality
Opening created by the movement of the form
Draw a few inspiration sketches, scan, and upload to the website

Upload 2+ views each plus several views with all tents in the campground and upload them to the web page